HISTORIA Y CULTURA
---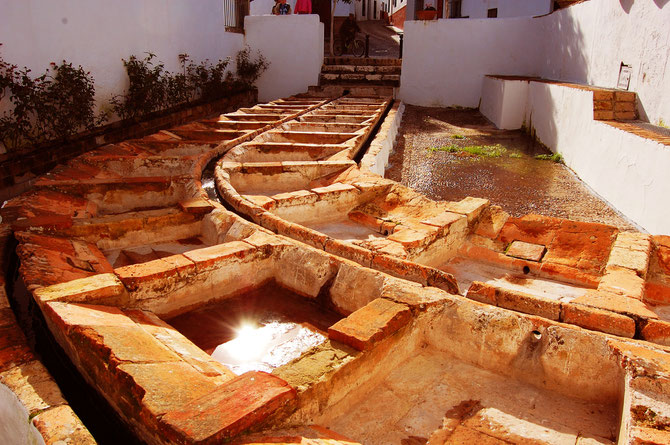 La tierra donde se ubica La Puebla de los Infantes ha sido habitada por el hombre desde hace miles de años, lo que se puede constatar gracias a los restos arqueológicos encontrados.
Gracias a su emplazamiento estratégico ha sido hogar de todas las culturas, desde el neolitico: íberos, romanos, visigodos, cristianos...
En la Puebla de los Infantes puedes visitar restos arqueológicos, castillos medievales como el ubicado en lo más alto del pueblo o las torres vigía de los alrededores, o remontarse a tiempos pasados en el único lavadero público que queda en buen estado en la provincia de Sevilla.
También puedes visitar antiguos molinos, casas de labor, albergues de sierra para el refugio de los lobos y osos del ganado, caleras, etc.
Vive la aventura de la cultura en La Puebla de los Infantes. 

The land where La Puebla de los Infantes is currently located has been occupied by man since ancient times, to which the archeological remains found here can attest.
Thanks to its strategic location it has been occupied by various cultures: the Romans, Visigoths, Muslims, Christians…and all of them have left their mark.
In La Puebla de los Infantes you can visit archeological remains and castles, discover hidden inscriptions and reminisce on old times in the last public washhouse in the province of Sevilla.
You can go hiking and discover old mills, farmhouses, herds fleeing from wolves and bears, quarries…
Enjoy the cultural adventure.
Les terres ou se trouve le village de "La Puebla de los Infantes " a été occupé par l´homme depuis longtemps, ca peut se constater a cause des restes archéologiques trouvées.
Dans cet emplacement stratégique , il y a eu différentes cultures: romaines, wisigothes, chrétiennes etc . qui ont laissés leur impromptues.
A La Puebla de los Infantes vous pourriez visiter les restes archéologiques et châteaux, découvrir inscriptions cachées et remémorer les temps passés dans le dernier lavoir public de la province de Seville.
Vous pouvez faire de la marche et découvrir anciens moulins , maisons de labours, auberge d´animaux pour le refuge des loups et ours...
Profite de l´aventure de la culture.
LAVADERO PÚBLICO LAS PILAS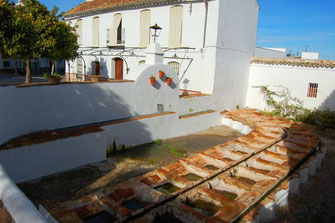 Este lavadero fue construido en la primera mitad del S. XIX y usado hasta hace sólo unas décadas.
Fueron usadas como lavadero de ropa, pero además también era un lugar de encuentro de los habitantes, un abrevadero de bestias y fuente de aprovisionamiento de agua potable.
Las mujeres se reunían aquí a lavar la ropa a diario, y de vez en cuando se sigue recreando en el pueblo esta tradición.

It was built in the first half of the 19th century, with continuous use to the present day. It was used as a washhouse, a watering hole for animals and a water supply. 
It was here that the women met daily to do the laundry, in a cultural event of great importance.
Construit au début du XIX siècle, avec des spectacles continus  a travers le temps. Son utilisation a êtes de lavoir, abreuvoir et pour approvisionnements.
Les femmes se réunissais tous les jours pour laver le linge, comme une habitude .
IGLESIA DE NTRA. SRA. DE LAS HUERTAS
Construida en el S. XV , y restaurada en los siglos XVI y XVIII, esta iglesia posee una esbelta torre campanario realizada en el estilo de los Reyes Católicos.
Cuenta con diversas esculturas de los siglos XVI, XVII y XVIII.
Es de gran importancia la escultura de la Virgen María Santísima de las Huertas, de la escuela de Pedro Millán (1530) y otra de Juan de Mesa.


Built at the end of the 15th century and improved upon in the 16th and 18th centuries, its naves have vaulted ceilings and the main chapel has a semi-circular vaulted ceiling.  It has a slender tower of stone in the style of the Catholic Monarchs.
Sculptures stand out from the 16th century as well as from the 17th and 18th centuries.  Among them is the outstanding statue of María Santísima de las Huertas (from the school of Pedro Millán - 1530), and another of Juan de Mesa
Eglise paroissiale de Nuestra Señora de Las Huertas.
Du XVème siècle, et restaurée aux XVIème et XVIIIème siècle, son nef principale et la chapelle ont êtes couvertes par des voutes.
Elle possède une tour svelte de pierre estimé de façon  Roi Catholiques.
Il y a des sculptures du XVIème, XVIIème et XVIIIème siècle. De grande importance , l´sculpture de la vierge de Maria Santisima de las Huertas, de l´école de Pedro Millán 1530 et une autre de "Juan de Mesa"
EL CASTILLO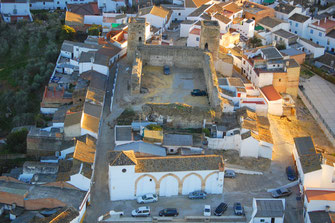 El Castillo de La Puebla de los Infantes fue construido en el S. XIV (1330 - 1344). Es de estilo gótico-mudejar y de planta trapezoidal y está erigido en la zona más alta del pueblo, siendo su origen militar, para la defensa en tiempos de la Reconquista.
Las vistas desde el castillo son espléndidas. 

The castle, built in the mid-14th century (1330-1344) in Gothic and Mudejar styles with a trapezoidal-shaped floor plan, is located in the highest part of the town, due to its military origin.
Parts of its wall once again remain visible thanks to various phases of restoration, revealing more never-before-seen views of the wall.
Le château, construit vers le XIVème siècle ( 1330-1344), de style  gothique- mudéjar et de plante trapézoïdale, est située dans la partie plus élevé du village, d´origine militaire.
Récentes restaurations, font que les vues du château sont splendides.
LA ERMITA DE SANTA ANA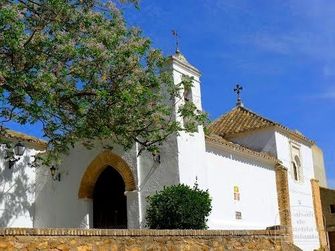 La Ermita de Santa Ana, del S. XV (1470-1485) es una preciosa construcción religiosa que presenta una estructura de arcos transversales, típica en la Sierra Norte de Sevilla.

The hermitage of Santa Ana, built towards the end of the 15th century (1470-1485) in Mudejar style, is a beautiful relgious building that features transversal arches typical of the Sierra Norte region.
L´ermitage de Santa Ana, mudéjar de fin du XVème siècle ( 1470-1485) est une jolie construction religieuse qui présente une structure d´arc transversales typiques de la Sierra Norte.